Your idea and requirements – Our consulting services.
Our stairs are made of the highest class solid wood, most often hard and prettiest domestic wood – beech, ash and oak, but they are also available in variants of any type of wood available in the country. Stainless steel elements can be added to the designed stairs, which enhances their aesthetics and increases their durability, gives originality.THE CUSTOMER NEEDS IT – WE MAKE IT.
As the manufacturers of stairs we specialize in the quality and durability of our products. In the "GALLERY" tab you will find only some of our realizations. They can be an inspiration for you to create your own professional, creative and functional stairs that will decorate your interior, and at the same time will be safe and durable.
Each staircase – whether it is self-supporting or concrete staircases – is designed individually.
We adapt to the needs of the client, because in our work we use both ideas and human skills, as well as computer programmes.
We use good, branded, tried and tested varnishes and woodstains. We have a rich resource of shades and colours that can be matched to any interior or just your own tastes.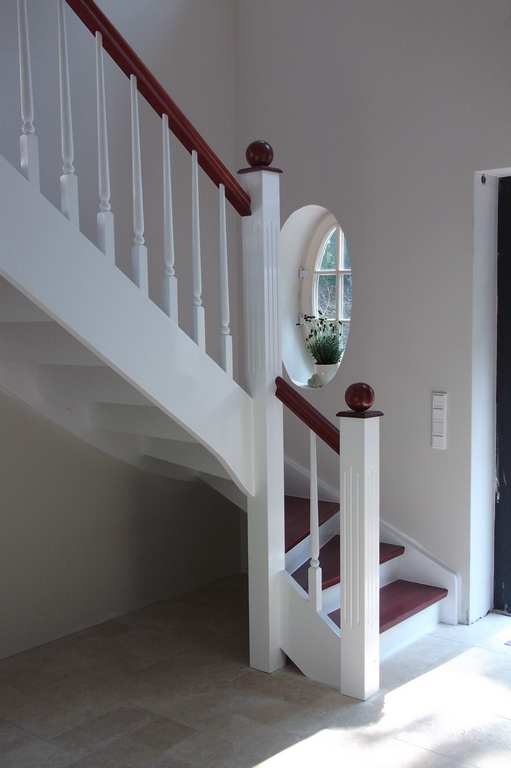 Implementation deadline
The order completion date does not exceed 60 days. Most of the elements are assembled during production, at the customer's home the assembly takes only a minimum of time.
Installation and warranty
Each staircase is assembled professionally by seasoned, efficient and experienced professionals. For our product we give 2 years warranty.
Experience
We have been on the market for 25 years, but we have had experience in the production of wooden stairs since 1974.